"The Best Way To Experience A Culture Is To Interact With It As Deeply As Possible."
South India Travel - Tamil Nadu & Kerala (14 Days)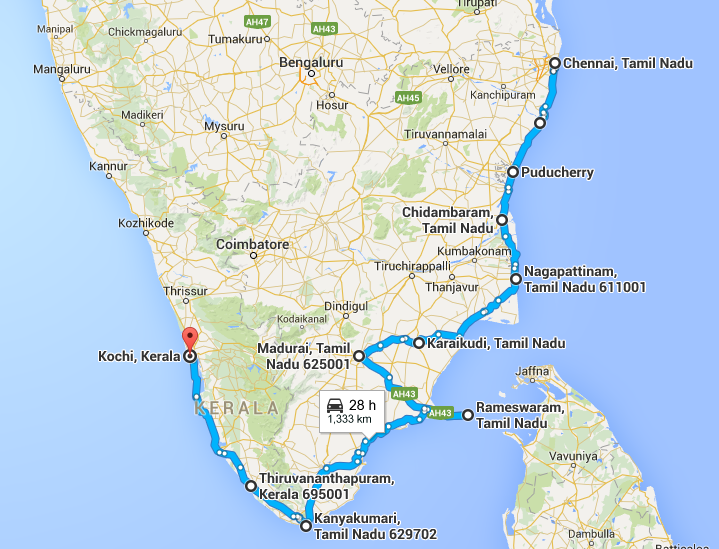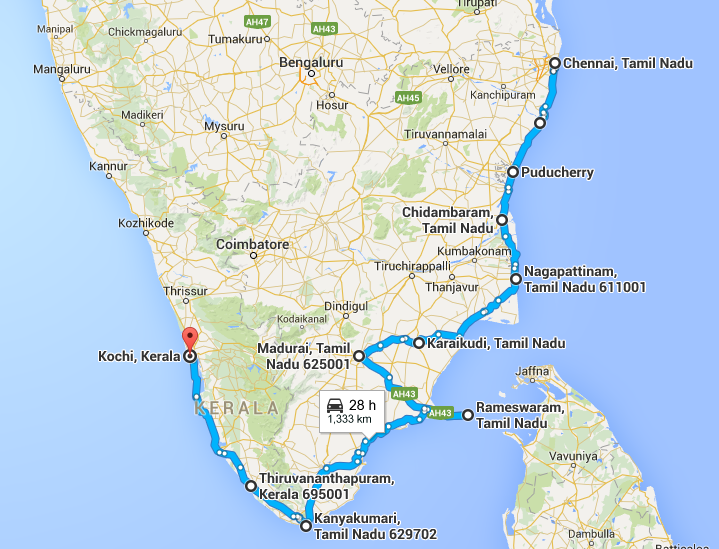 South India Travel - Tamil Nadu & Kerala (14 Days)
We will be exploring two spectacular states of South India - Tamil Nadu (South East) & Kerala (South West) and their food, art, landscape, culture & people. South India is home for 2000 year old traditions, temples and many still remain untouched.
Group Size: Min - 2; Max - 5.
What's Included:
All the Cultural Exploration Activities (Check Additional Info),
Entry fees to local sight visits,
Local transport (Airport Transfers, Bus, Private Vehicle, Auto Rickshaw, Boat),
Mid-range hotel accommodation,
A small donation to a local primary school,
One time meal sponsorship at an old age home and
A bilingual (Tamil & English) Travel Expert.
One night at Kerala Backwaters House Boat.
Not Ready To Pay In Full?
Register here to get your flexible payment options, so you can pay in your own time before travel.
Register (Payment Not Required)
South India Travel Interest
We like the old way of doing business and encourage human interactions.
Finish: Kochi, Kerala, India (or transport can be arranged to Chennai.)
Start: Chennai, Tamil Nadu, India.
ITINERARY
Day 1 - 2: Chennai - Puducherry

Day 3 - 4: Chidambaram - Nagapattinum

Day 5 - 6: Karaikudi

Day 7 - 9: Madurai, Paramakudi & Rameswaram

Day 10 - 11: Kanyakumari

Day 12 - 14: Thiruvananthapuram, Kerala Backwaters & Kochi
ACTIVITIES
As we promised, we are taking you to explore small towns, meet locals and their families. So you can get an un-altered experience. We will be participating in their day to day activities which include, but not limited to:
Meeting a family and go to buy some veggies from the local market down the road.

Learn to cook an authentic Tamil meal.

Learn to do some dance moves.

Experience a 1000 year old martial art demonstration.

Explore a local farm.

Visit a local primary school.

Give company to some old mates at an old age home.

Take a trip on auto-rickshaw

Explore an ancient temple.

Relax on a Kerala backwaters house boat.
Weather: South India is a hot climate and you will be sweating. But no harmful UV/UX rays so you are not expected to be burnt by sun. However you might get a nice tanning. Best time to travel would be between August and April as temperature will be low.
TRAVEL EXPERT PROFILE: Gokulan Gopal, Born in South India and living in Sydney, Australia since 2009. Speaks fluent Tamil, English & some Australian lingo.
What to wear?: South India is conservative when it comes to clothing, that means covers arms, shoulders and wear full pants. Also wear loose clothes, cotton clothes since its going to be warm. Local temples does not allow western style clothing. There you go, an opportunity dress like a local.
Language: Tamil Nadu people speak Tamil and Kerala people speak Malayalam. However most people know enough English with an understandable accent. Kerala is the only state in India to reach 100% literacy rate.
Health: All our travellers are expected to be in good physical health to take on activities. Drinking clean water is essential to avoid sickness. From our experience, there is a chance that you might get sick. If that happens, we will take you to local doctor to get medical advise and the cost is not covered in the trip price.
Safety & Security: South India is safe in general. However we will be providing you with some local numbers, emergency numbers and few tips & tricks. Also you have our Travel Expert travelling with you to advise you on critical situations. Always keep your valuable items such as passport, wallet and any medications close to you or in a hand bag or back-pack. Women should exercise caution while travelling in India due to sexual assault cases in the past, even the risk is very low in this trip.
Flights, Visa, Immigration, Travel Insurance and vaccinations are responsibility of the individual traveller. We will ask you to provide your personal details (name as in passport), a copy of travel insurance and any medical conditions we should be aware of. We respect your privacy and please check our privacy policy. Also we will be monitoring government websites and other resources to get regular updates on safety.
Warning: India is naturally full of surprises. But mostly pleasant ones. So we request you for a minor flexibility in visiting few places and people.
Please read our Terms & Conditions, before you make a booking. The link will be at the footer of this page.
Any Questions? or Want more info on this trip? Please contact us.
Hello! In case, you want more info? or you can't find what you looking for?
We do provide other services like Customized Travel Experiences for individuals, Grass root exploration (India only) and many more ideas coming up in our thinking factory.